Spun Pole Making Machine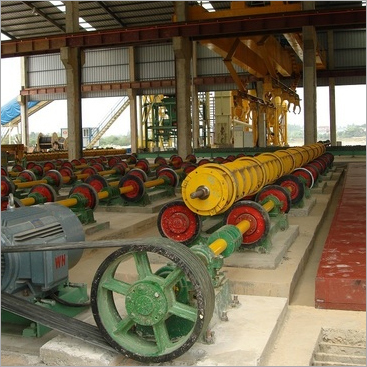 Spun Pole Making Machine
Price And Quantity
Product Specifications
Product Description
Spun Pole Making Machine is a shape gear that used for making diverse length and width of fortified shafts and concrete line. It is operated by a wide margin off regulated variable motor. This machine runs effectively and adjustable speed. The machine base is soldered in box-type structure, sturdiness, and robustness. Besides, the integrated bearings are reliable and fixed. The shape is outlined by pressing the steel sheet with annular and vertical fortified steel sheet. Our Spun Pole Making Machine is constructed in stages and has the advantage of long service life, great unbending nature, and high concentricity.
Features of Spun Pole Making Machine
Sparing steel metal, about 30-70% (using cold drawn and pressure steel wire that can save up to 30-60% and 40-69%, respectively)
Break obstruction can improve about 3-5 times.
Rigid nature increases 1-3 times.
Reducing the cost (using cold drawn steel and pressure steel wire can diminish 25-40% and 12-21%, respectively)
Incredible robustness can concede the presence and break development.
Ensure the environment on which people depend upon for presence and decrease the deforestation.