Rcc Pipe Making Machine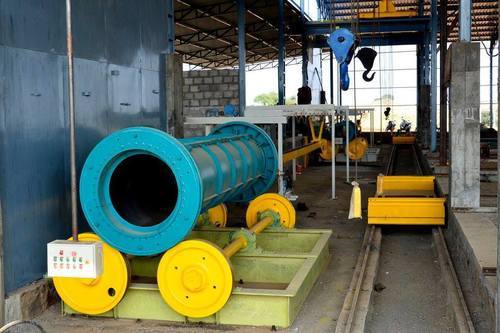 Rcc Pipe Making Machine
Product Description
You have probably seen large RCC pipe underground for the supply of drinking water, wastewater, storm water, etc. Cement, aggregates, metal and sand are some of the raw material used in the production of material. Besides the raw material, one important aspect of the production is RCC pipe making machine. The concrete mixture is prepared and fed into the mould of this machine, which initially rotates at low speed and eventually at fast pace. The concrete formed in the shape of pipe remains in the mould for at least 24 hours. This follows the curing process in which the extracted pipe is submerged in the water. This process takes at least 15-20 days. Our company supplies RCC pipe making machine to several departments, like environment engineering, municipal corporation, agriculture & forest, etc.
Features of Rcc Pipe Making Machine:
This machine produces RCC pipes, which are better than conventional cement pipes.
The pipes produced are resistant to compression and tensile stress.
In addition to being easy to operate and reliable, this machine has a large production capacity
Auto-driven RCC pipe making machine allows for faster and more efficient moulding and demoulding.
This machine can be tailor-made to our client's specifications and the production personnel always keep the process as simple as possible.
Rcc Pipe Making Machine